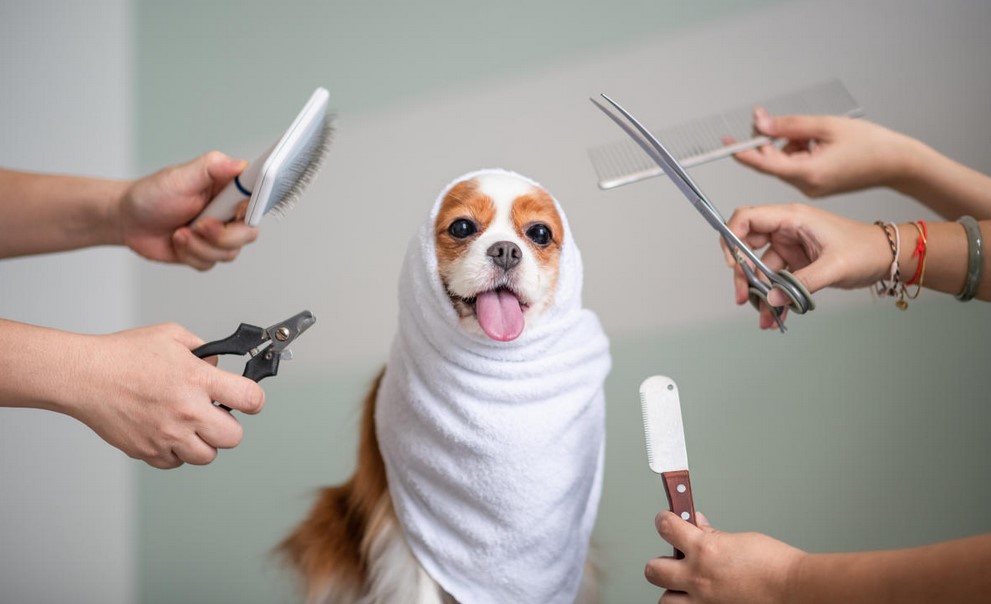 2020 signaled a shift towards better pet care overall. 2021 continues these adjustments, with big changes towards more natural pet products and virtual services. Pet ownership increased from 54% to 57% this year, so pets will continue to be big business. Look out for the following trends that are shaping the future of pets.
Everything's Going Organic
Because of the pandemic, pet owners want to focus on their pets' health and wellness. They monitor their pets for signs of stress and are concerned about their pets' immune systems. Choosing healthy alternatives is a priority for most pet parents.
A US pet market survey says that there is a move towards more natural pet food and related products. More pet owners are buying treats with plant-based ingredients and leaning towards fresh or raw food. They want to veer away from any processed pet food. This can mean organic fare that is also fit for humans to enjoy. Pet enthusiasts this year are also more likely to purchase pet healthcare products.
Pet owners extend this concern to using pet-friendly chemical-free products. As more people are concerned with disinfecting, pet-safe cleaning solutions and tools are preferred.
Pet toys are also no exception. Owners are also buying toys made with all-natural materials. Consumers will want BPA-free toys that are made up of natural rubber and organic cotton.
Private Label and Premium Pet Products Are Getting More Attention
With more consumers buying in bulk, less expensive private label pet merchandise is getting popular. National name brands will have more competition. On the other side of the spectrum, more pet products will have a more premium feel. 

Grooming Styles Will Be More Fashion-Forward
With some parts of the country opening up, professional pet grooming will still be needed for shows. There are still dog competitions where expert groomers elevate showdog level grooming with more artistic and colorful hair designs.
Aside from basic puppy cuts and standard shiny coats, pets in 2021 can enjoy hair coloring, jewelry, and unique stenciled buzz cuts.
However, Caesar Milan, a dog behavior expert, warns owners to stay away from toxic dyes. Coloring should still be left to professional groomers.
On a related note, DIY grooming at home is also trending. Professional groomers are doing more tutorials on proper and basic grooming for pets. Pet owners will want to own standard grooming tools to keep pets well maintained between salon or spa visits.
Virtual Pet Care Services Are Going Stronger Than Ever
Vets are now offering online veterinary counseling or obedience training. Some pet doctors continue to offer home visits, along with online consultations.
Pet insurance is also now available for owners. It allows them to pay for the best course of treatment for pets in emergencies. This kind of insurance protects people and their pets from any big financial setback.
Finally, online shopping for pets is still on the uptake. Common big-ticket items are:
– treats and pet food
– more durable pet supplies
– deworming meds
– and cat litter
The latest items on the shopping list are pet vitamins and supplements.
Pet Owners Are Getting More Actively Involved in Animal Welfare
With the humanism of pets, pet care trends are also moving towards a more personalized approach. Pet parents want to do more grooming themselves and participate in animal welfare issues.
Pet owners will also want more ethical treatment of animals and will not buy products involving cruel animal testing. Pet adoption will increase the overall pet population as more pet retailers support rescue shelters.
The Future Is: Healthier, Happier Pets
With all these changes, one thing remains: people still treat their pets like family. Pet parents will spare no expense or effort to ensure that beloved pets are in the healthiest state possible. More owners will continue to be concerned with healthier alternatives to food, products, and related merchandise around the home.
The pet industry continues to meet the challenges of making pet products and services to meet this need. Professionals continue to adapt and personalize services in the best interest of animals and their clients.
The more heartwarming pet trend is adoption and animal shelter support. Pet retailers are joining the cause to rehome rescued pets. More families, especially those with children, now enjoy the benefits of owning pets, thanks to increased pet adoptions.
Technology is also being used to bridge the gap in every aspect of pet welfare. From shopping to veterinary care, pet care tutorials to raising better awareness, everybody is connected to whatever's needed.
Related Posts